Flooring Trends for Senior Living Environments
Comfort. Safety. Coziness. As our loved ones grow older, we strive to create spaces that provide performance to meet specific needs and safety measures while offering style that balances fashion with familiarity and reassurance.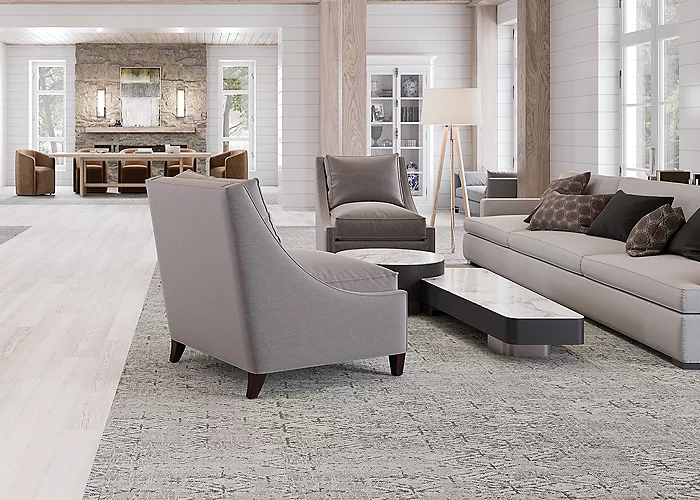 When it comes to selecting materials for senior living that reduce the everyday vulnerability to accidents and injuries, it's still important to avoid a finished layout that feels sterile, cold, or flat. The tones, textures, and patterns used can improve the psyche and truly benefit emotional well-being, inviting creativity into a secure environment.
Factors such as slip-resistance, cushion or shock absorption, and ease of travel will certainly influence flooring choices, as will overall comfort and easy cleanability. Thankfully, modern innovation and technological advancements continue to produce thoughtful flooring trends for senior living environments that help deliver peace of mind to inhabitants, caregivers, and family members alike.
To keep spirits high, it also helps to have soothing designs that are still visually interesting and engaging. Mohawk Group recently enlisted one of the top 10 design firms nationwide and the industry's leading senior living design firm, to collaborate on luxury soft surface options that meet the unique needs of these spaces:
"Traditionally, broadloom carpet collections look more residential, which is the desired feel, whereas carpet tile was more on-trend with hotel trends and generally considered to look too commercial," explains Jim Kraus, Senior Associate with Perkins Eastman.
"When designing these spaces, we are looking to craft more of a residential feel than a hospitality feel. How do we keep the residential look with carpet tile?"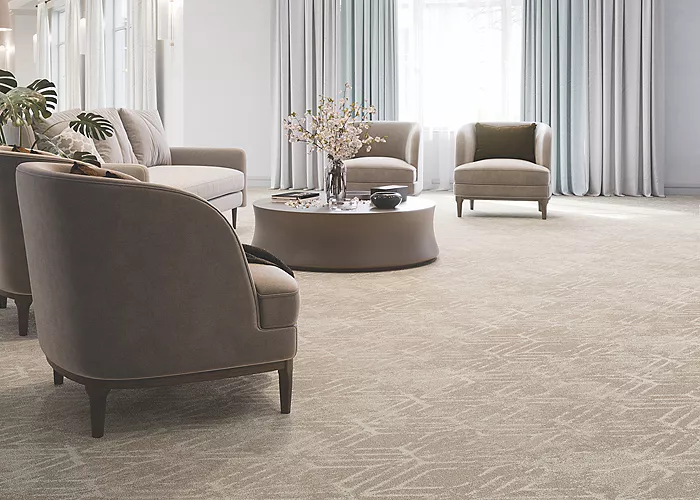 Mohawk Group's coordinating collections offers the best of both worlds: The Abbey Grove Broadloom Collection and Emanating Echoes Carpet Tile Collection inspire calm confidence and positive environments while offering innovative performance technology and impressive sustainability considerations.
In addition to offering four charming styles, Eden Terrace, Garden Waltz, London Thyme, and Structured Harmony, each Abbey Grove pattern is created with Colorstrand® solution-dyed nylon and features nine running-line colorways that can be easily personalized in Mohawk Group's Personal Studio.
"We love that this collection speaks to age inclusivity. Although these patterns are created with older adults in mind, they are timeless and transfer to many market segments. Senior housing is a place to thrive. It's about connecting to community and feeling like a home. This is the goal and the expectation of these clients," adds Hailey Innocent, Associate Interior Designer with Perkins Eastman.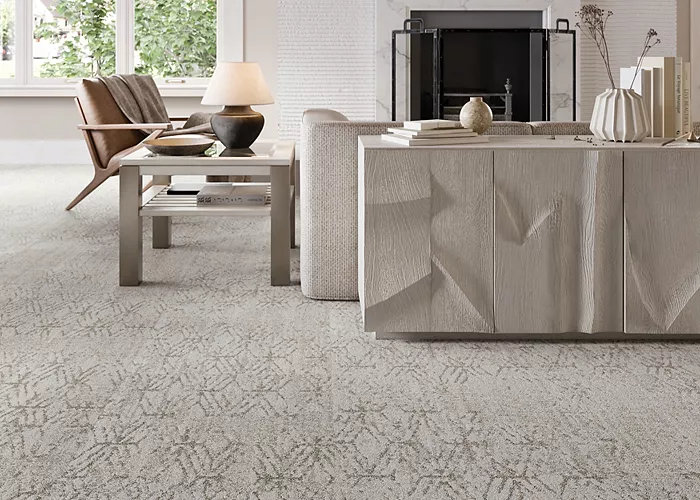 The Emanating Echoes Collection inspires with Introspective Thoughts, Quiet Musings, Fluent Grace, Reverberation, and Remnant styles carefully developed to offer recognizable motifs reminiscent of home. Whether it's a geometric, architectural pattern with an antiqued effect for comfort and warmth, a contemporary play on Persian rug motifs that lends sophistication, or an abstract, energizing floral, these curated looks show no shortage of chic style with nine new colorways. While many products designed for senior living can feel clinical, flooring trends for these spaces will continue to make increasingly impressive artistic statements while still feeling familiar:
"You always want to deliver a collection that hits on multiple types of décor, that gives something for everyone. This collection is very eclectic in its approach, it's very fun. Emanating Echoes are contemporary, but you also have a more traditional floral pattern," Kraus elaborates.
"This collection is unique, it's timeless but a refresh of familiarity," Innocent adds. "The variety and scale of pattern types and colors work well together. A huge advantage is no matter what individual space you are designing, this collection speaks to cohesion through the different patterns."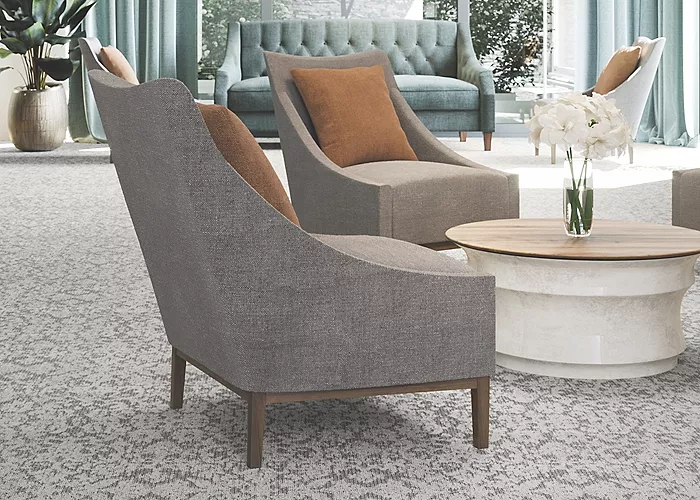 Needs for senior living residents can change quickly if mobility decreases or doctor's directives change, thus the ability to repurpose spaces becomes increasingly important to properly accommodate each individual. Carpet tile options are easier to install, take apart, and are helpful when crafting specific areas within a more open floorplan.
"The collection offers a variety of scale, design, and color, allowing it to be used across the full spectrum of senior living. The Mohawk team's dedication to the development and design of the product is apparent from the beginning," add Laurie Butler, Board Director with Perkins Eastman.
"The fact that the patterns and colors are so varied makes it easy to find a carpet for almost any area of senior living. I'm particularly fond of the Introspective Thoughts and Remnant in the Emanating Echoes collection."
Carpet tiles provide a valuable soft surface that is tremendously easier to install than a carpet roll, yet they can be pulled up for a design refresh, new room arrangement, or for an easy repair. The flexibility of carpet tiles means no long-term commitment to a permanent flooring installation, so the comfortable cushion underfoot is much easier to work with if the needs of a resident change or a new arrangement is required.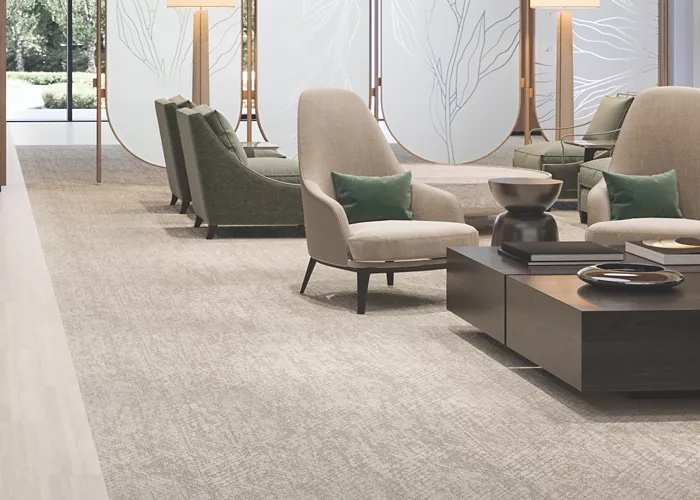 Today's improved carpet tile offerings such as Emanating Echoes use advanced backing systems and fibers in a sleeker, all-encompassing design to enhance premium performance when used as senior living flooring solutions. The EcoFlex™ ONE construction features hydrophobic PET cushion, backing layers, and Duracolor Tricor fiber that enhances comfort, safety, durability for a longer life cycle, and soil removal for more effective cleaning.
"When carpet tile was being used, it was because of the advantage of cleanability. All of these patterns are created to eliminate seams, which can make carpet tile more usable in senior living," says Kraus.
Today's senior living flooring options also take environmental concerns into account more than ever before: Both Abbey Grove and Emanating Echoes Collections are beyond carbon neutral and achieve Living Petal Certification.
When these flooring trends are utilized, the resulting products contribute to an overall impactful design that empowers senior residents toward positive living experiences. As innovative design continues to inform the meaningful spaces that are offered, quality of life improves for all levels of care!
For more information on the Abbey Grove and Emanating Echoes Collections, as well as to be added to the Mohawk Group Senior Living newsletter, please visit mohawkgroup.com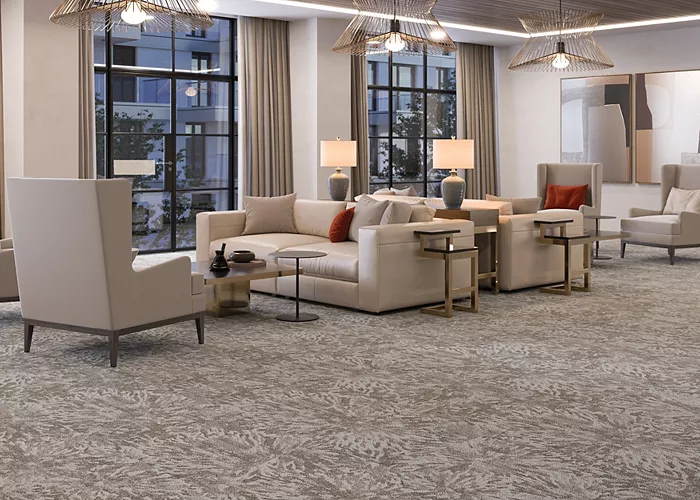 Color and Design Vision 2022: Designkind
Each July, Mohawk Group launches a new Color + Design Vision presentation which serves as both research for our product development and related product stories, as well as a trend forecast for our customers.
Pantone 2022 Color of the Year
Pantone launches their 2022 Color of the Year: Very Peri (17-3938).
Sign Up To Our Newsletter