Generation Scrap Exhibit 2022
December 19, 2022 5:42 pm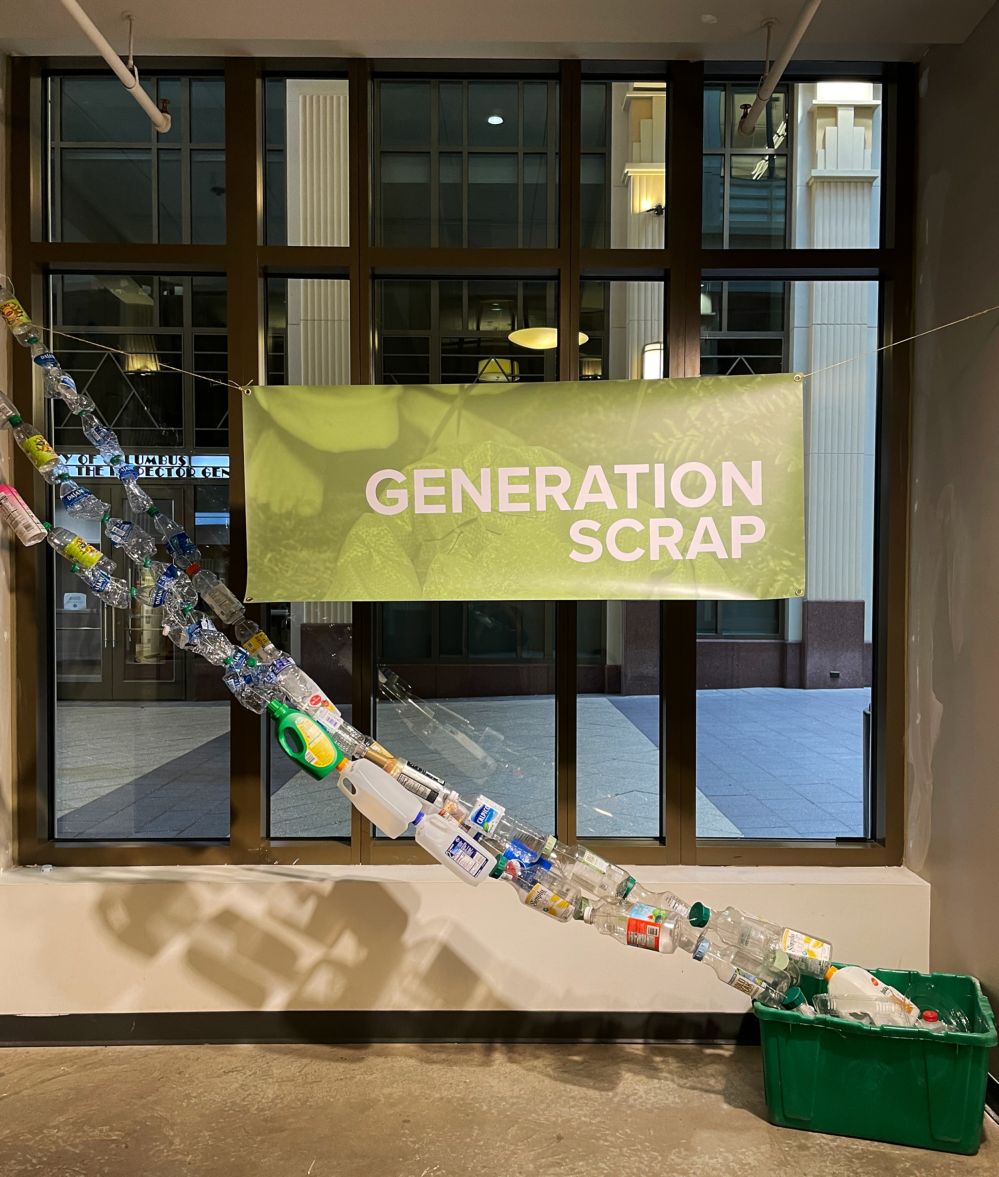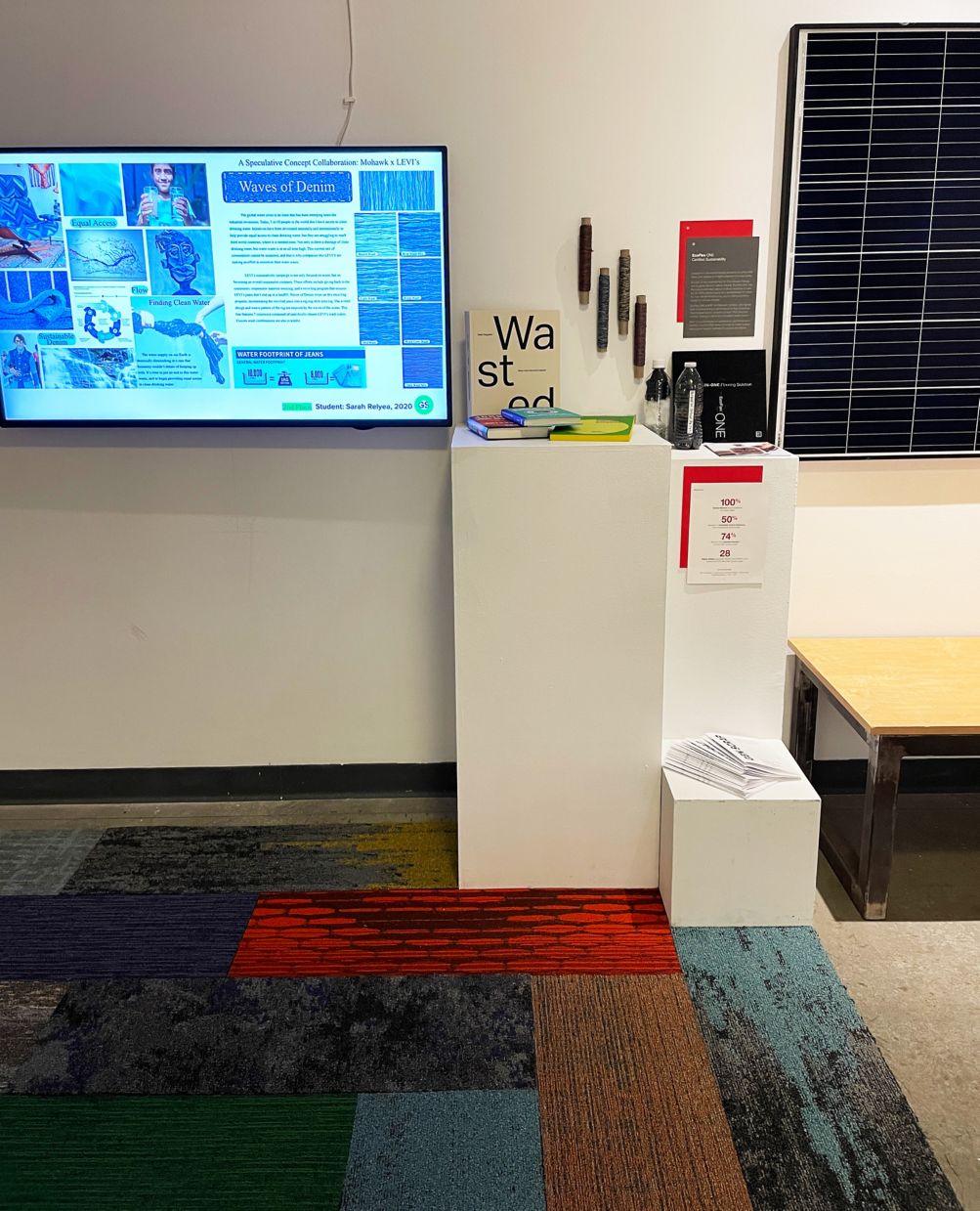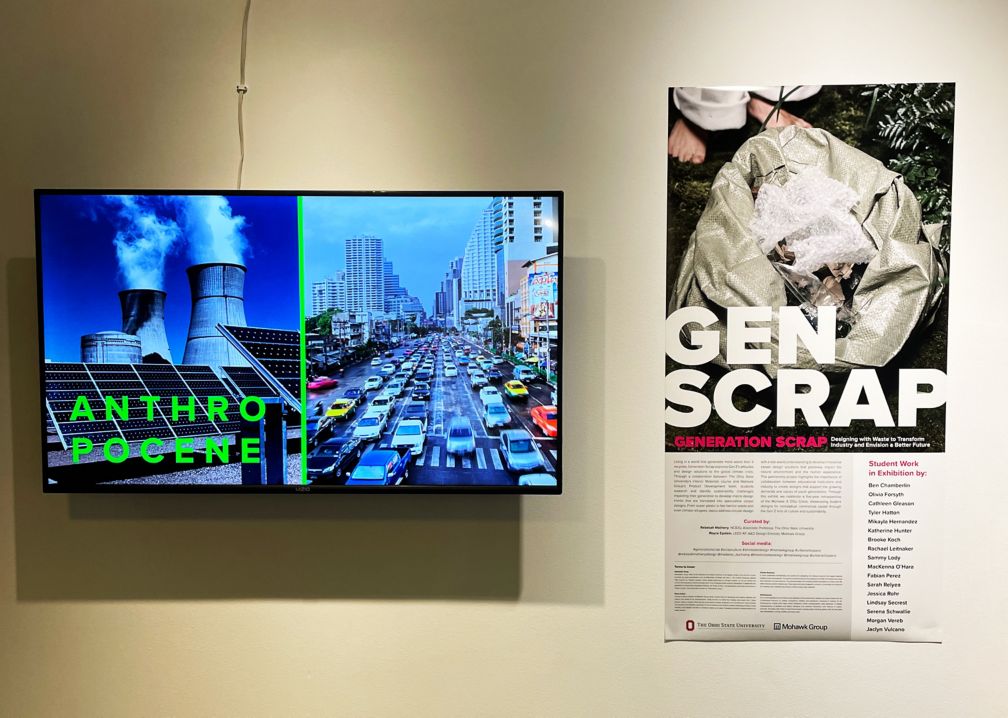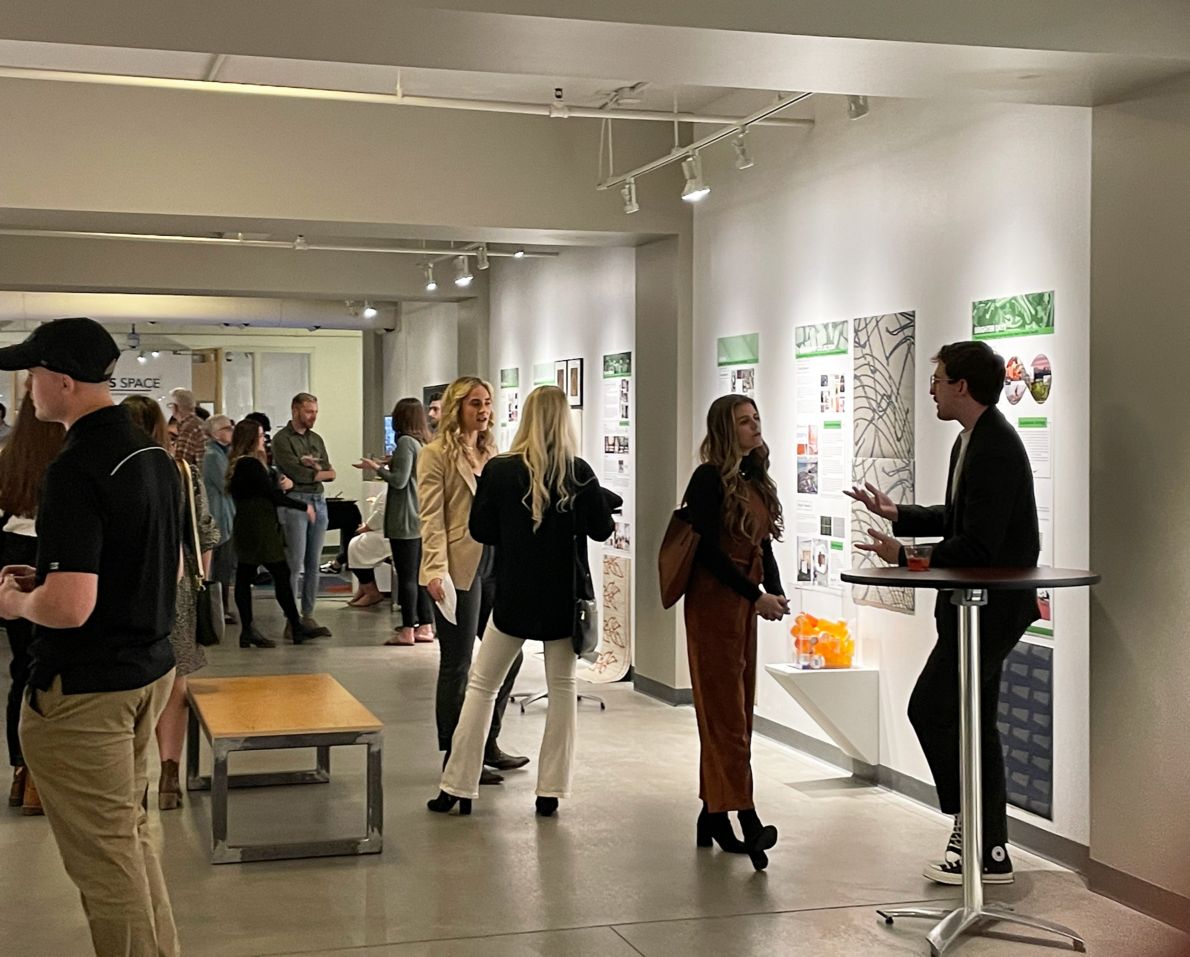 During October 2022, The Ohio State University's Department of Design and Mohawk Group presented "Generation Scrap", a special exhibit of featured projects from 17 students over five years of the OSU X MOHAWK COLAB. The collaboration explored speculative student designs of sustainable carpet in the Anthropocene through the lens of Generation Z.
Co-curated by Professor Rebekah Matheny from The Ohio State University, and Royce Epstein, A&D Design Director at Mohawk Group, the exhibit set out to explore how students can design with waste to transform the carpet and flooring industry. The exhibition was inspired by the student work during the duration of this collaboration, looking at Gen Z's attitudes and design solutions to the global climate crisis. Through this collaboration, students researched and identified sustainability challenges impacting their generation to develop macro design trends that are translated into speculative carpet designs.
From ocean plastic to fast fashion waste and even climate refugees, topics addressed circular design with a real-world understanding to develop innovative carpet design solutions that positively impact the natural environment and the human experience. This partnership project highlights the importance of collaboration between educational institutions and industry to create designs that support the growing demands and values of Gen Z.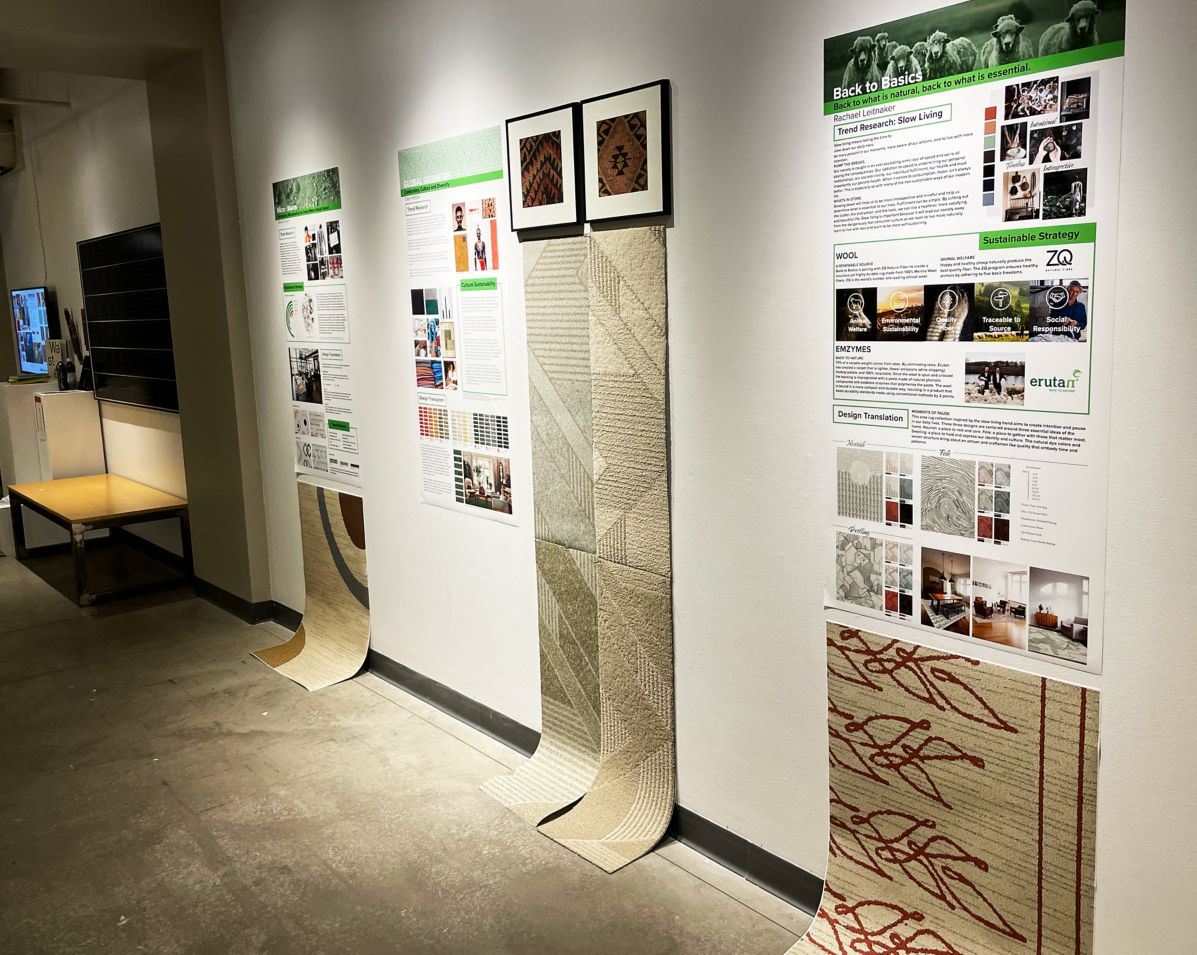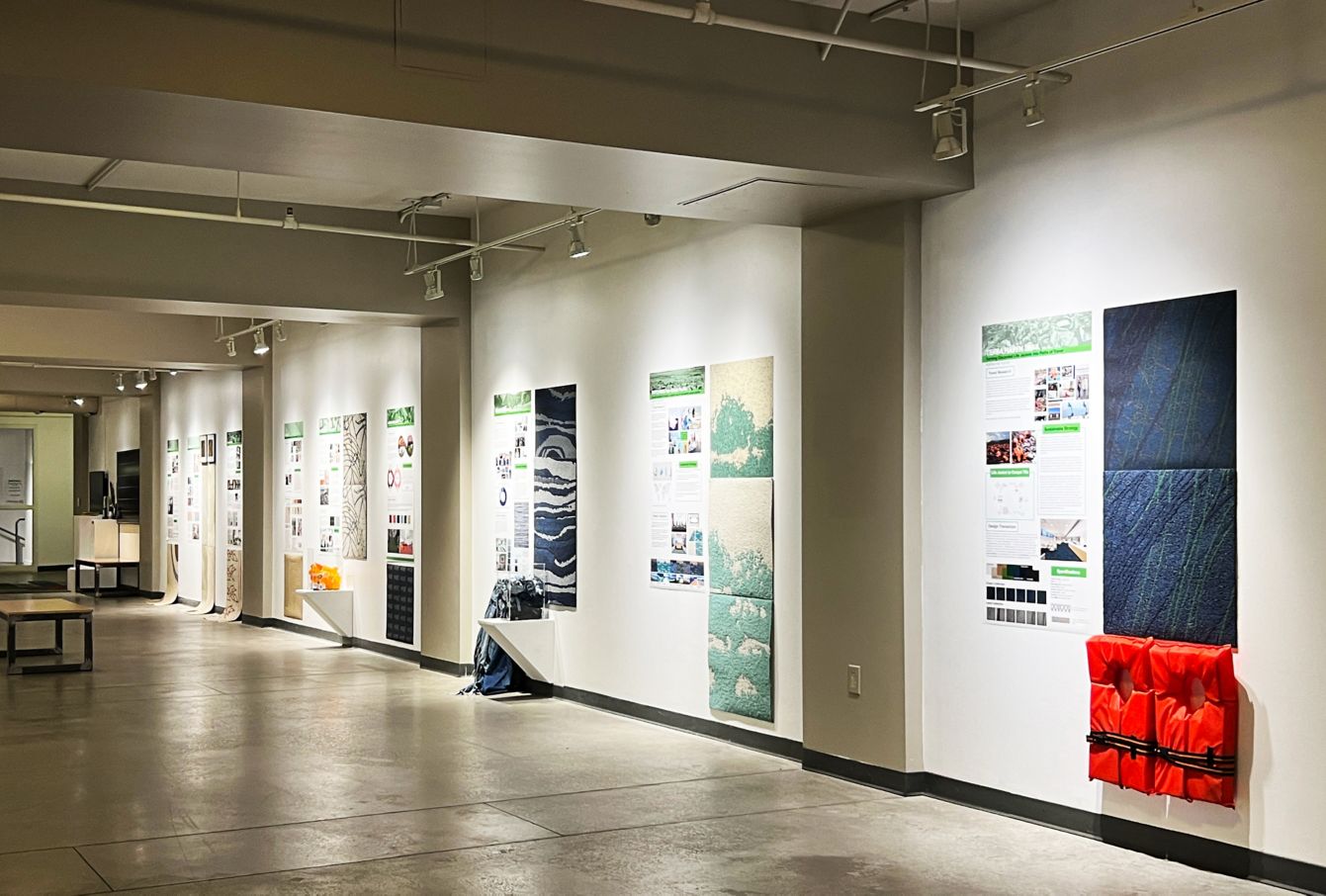 Students who were selected to exhibit spanned five years of the collaboration, and all completed the student design competition with exceptional projects. They are: Ben Chamberlin, Olivia Forsyth, Cathleen Gleason, Tyler Hatton, Mikayla Hernandez, Katherine Hunter, Brooke Koch, Rachael Leitnaker, Sammy Lody, MacKenna O'Hara, Fabian Perez, Sarah Relyea, Jessica Rohr, Lindsay Secrest, Serena Schwallie, Morgan Vereb, and Jaclyn Vulcano.
All students created a poster detailing their conceptual carpet design along with their trend research, sustainable strategy, design translation, room scenes and proposed colorways. Mohawk's Director of Commercial Field Design, Stacey Gerbman, then used the student designs and colorwork to create paper simulations to bring the concepts to life. About half of the students also received actual tufted carpet samples, which allowed them to see how ideas become carpet for the A&D industry. This was truly a once-in-a-lifetime opportunity for these future interior designers.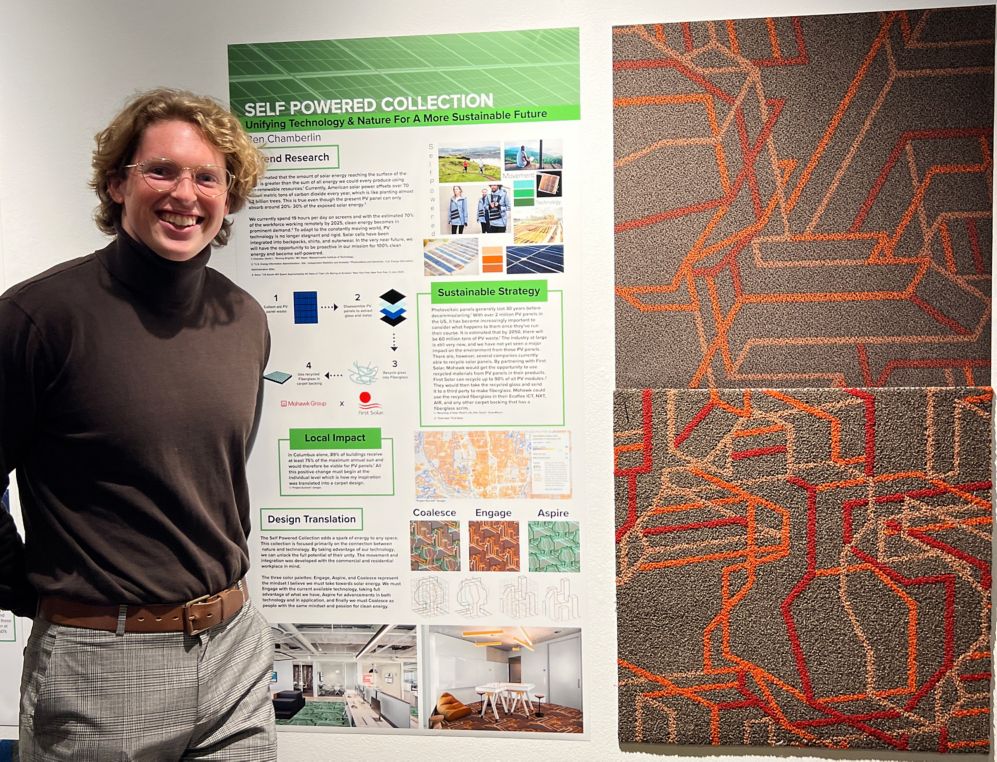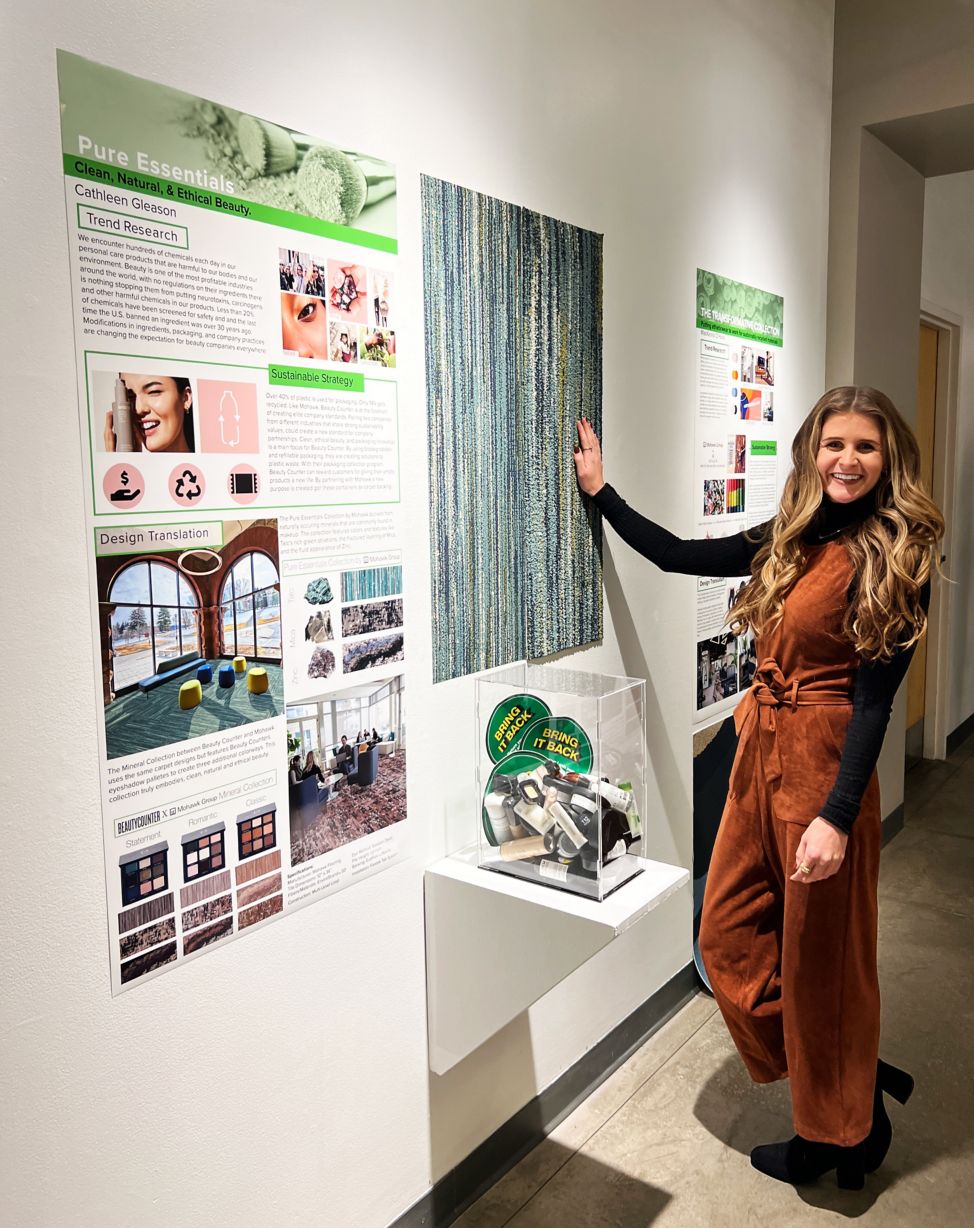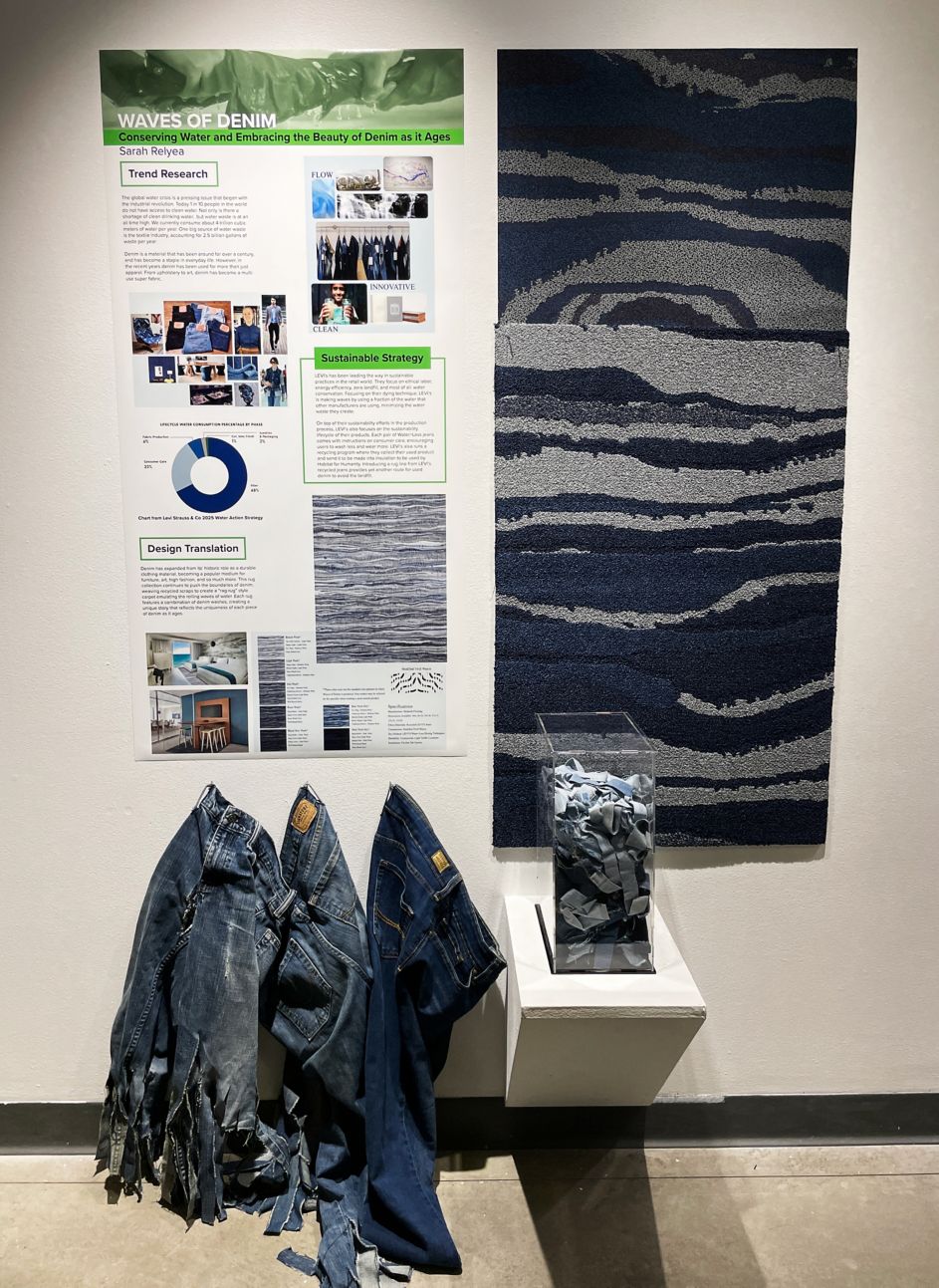 The Ohio State Department of Design also profiled two of the students and their work, you can read about Brooke Koch and Fabian Perez here: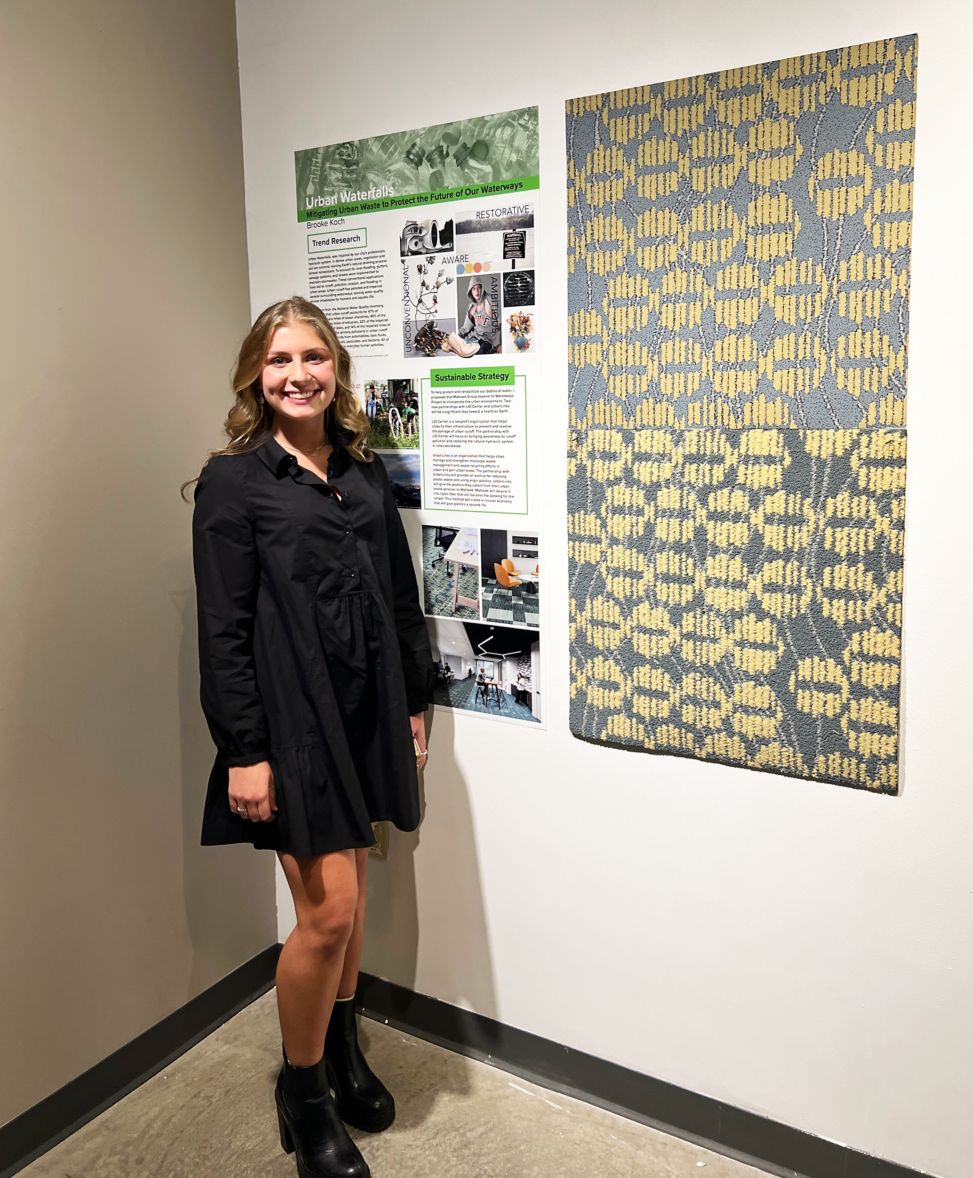 https://design.osu.edu/news/generation-scrap-student-feature-brooke-koch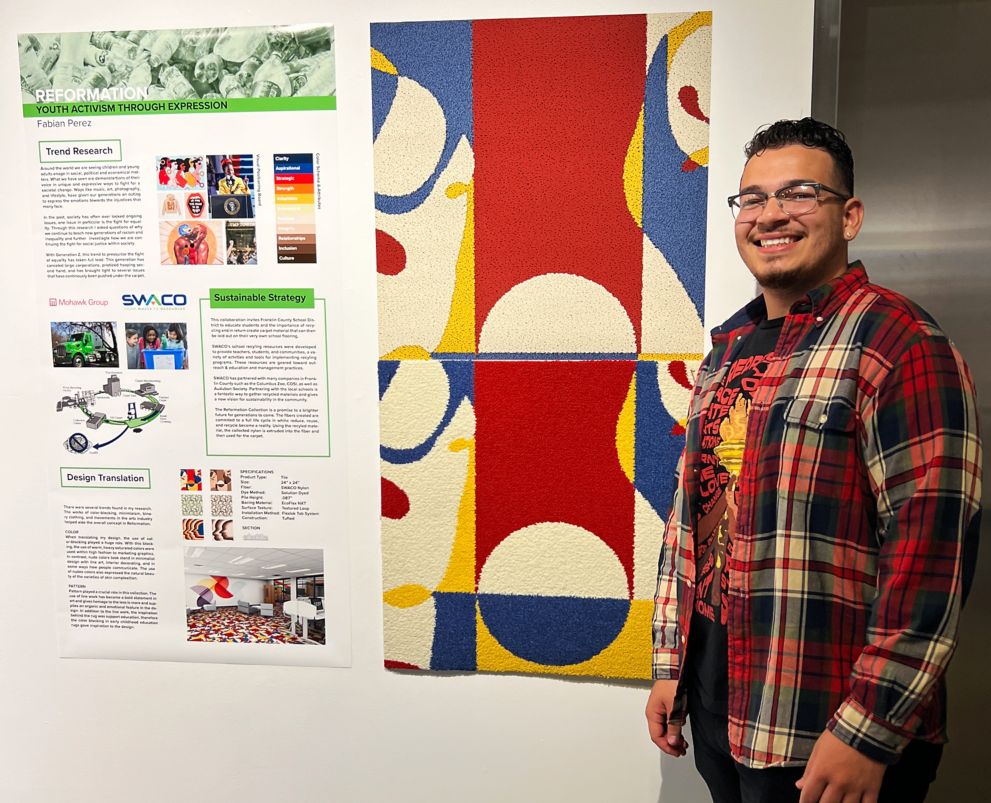 https://design.osu.edu/news/generation-scrap-student-feature-fabian-perez
The opening was held on Friday, September 30th and the exhibit was open to the public throughout October at the Urban Arts Space in Columbus, Ohio.
Additionally, as part of the exhibit, Royce Epstein and Rebekah Matheny presented their lecture "Generation Scrap: Designing with Waste to Transform Industry and Envision a Better Future" along with Katherine Hunter, OSU alumna and interior designer at MA Design. This talk was held at the Center for Architecture and Design just prior to the exhibition opening.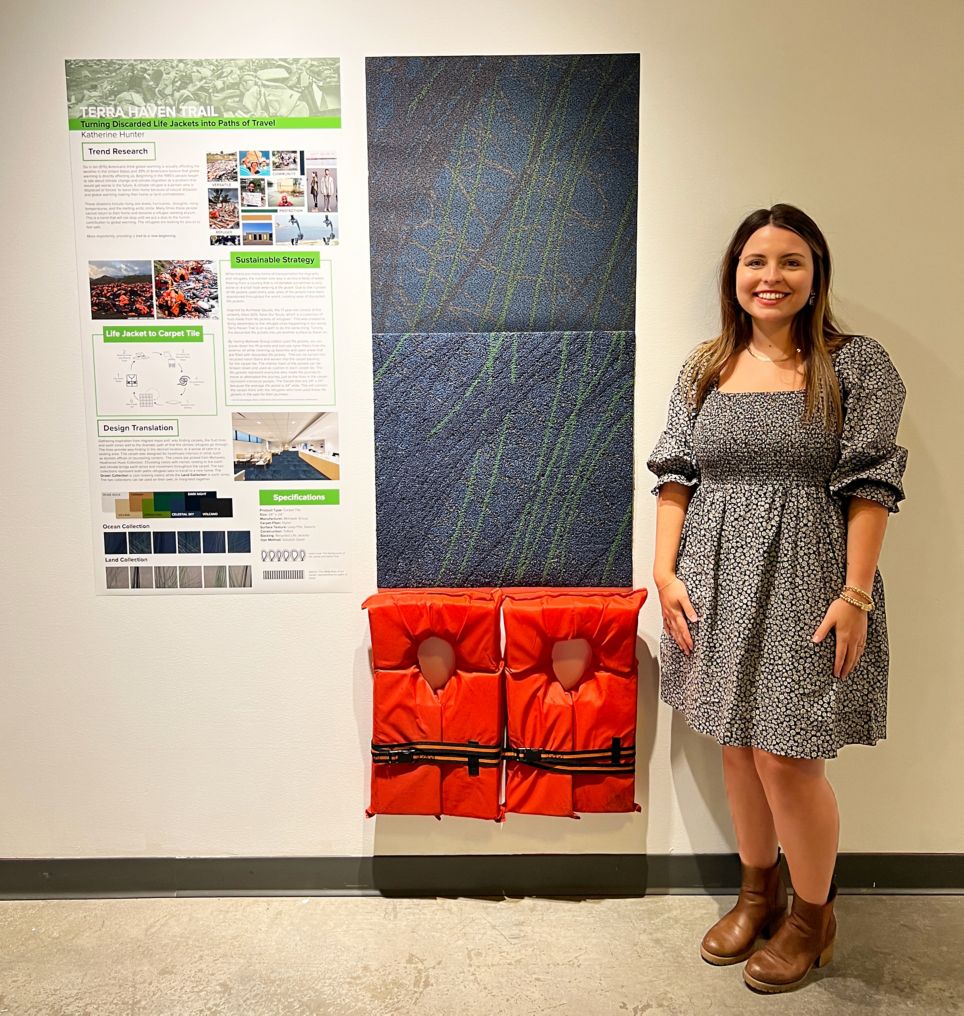 Support for this exhibit was provided by Mohawk Group and The Ohio State University Department of Design.
­­­­­­­­-----
Photo Credits:
Image 1: Entry display of plastic waste sculpture created by students from OSU at the Urban Arts Space in Columbus, Ohio
Image 2: Learning area of the exhibit with a video loop about the project, some books on sustainability, and Mohawk Group's yarns and backing made from recycled water bottles.
Image 3: Entry poster and screen with scenes from the Anthropocene
Image 4: Scene from the Generation Scrap exhibition opening
Image 5: A peek at the exhibit showing the work of Rachael Leitnaker, Tyler Hatton, and Olivia Forsyth
Image 6: Another look at the exhibit with more student projects
Image 7: Ben Chamberlin and his project "Self Powered Collection" that used reclaimed solar panels for creating a new carpet backing
Image 8: Cathleen Gleason with her project "Pure Essentials", proposing that the beauty industry reclaim plastic packaging and use for new carpet materials and designs
Image 9: "Wave of Denim" project by Sarah Relyea addressing water consumption in the denim industry
Image 10: Brooke Koch and her project "Urban Waterfalls" that explored Mohawk's Waterways Project by researching urban water runoff
Image 11: Fabian Perez with his project "Reformation", promoting youth activism, expression, and recycled nylon
Image 12: Katherine Hunter with her project "Terra Haven Trail" that addresses climate migration and proposes carpet tiles made from reclaimed life jackets
Color and Design Vision 2022: Designkind
Each July, Mohawk Group launches a new Color + Design Vision presentation which serves as both research for our product development and related product stories, as well as a trend forecast for our customers.
Waxman Textile Prize 2022
Mohawk Group is proud to sponsor the Waxman Textile Prize, an annual design competition that seeks out the next generation of innovative textile designers.
Pantone 2022 Color of the Year
Pantone launches their 2022 Color of the Year: Very Peri (17-3938).
Sign Up To Our Newsletter