As of 2022, Mohawk Group floor covering products including our carpet tile, broadloom, woven, LVT, and other resilient surfaces are going Beyond Carbon Neutral, meaning an additional 5% carbon offset beyond neutral, for a net-positive impact on the environment.
CASE STUDY
One of our primary commercial manufacturing facilities, Glasgow was a great opportunity for a change to a seasonal heating system. Located in the Appalachian foothills, Glasgow typically requires some supplemental heating in the production spaces for 6-8 months of the year. The historical system utilized steam heating with steam supplied by a very old inefficient system. In 2020, a modern combination infrared and direct fired system was installed along with a small high-efficiency package boiler for the small remaining steam need. Overall, this project has annually saved the environment: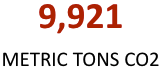 Fill out the form below to get in touch with a sales representative whose skill set matches your needs.
* Indicates a mandatory field