Enhanced Urethane Finish for LVT
Performance against stains and scratch historically worked in opposition to each other…until now. M-Force Ultra provides the ultimate stain and scratch protection without compromising the authenticity of the finish. But don't take our word for it — the Taber abrasion test proves it.

The Taber abrasion test is the industry standard for measuring resistance to wear. During the test, a platform spins a flooring sample beneath two abrasive wheels, which rub against the flooring surface, enacting wear. The resistance to wear equals the number of times (cycles) the flooring can be spun before the wheels abrade through the finish and visibly affect the color layer.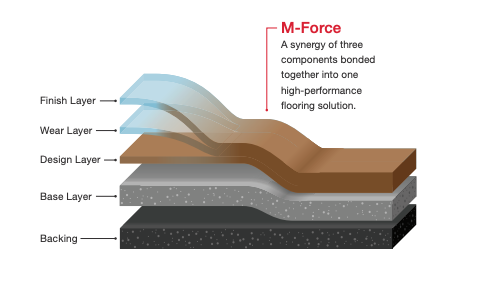 Resilient tile with M-Force™ outperforms other 20 mil products while M-Force Ultra can complete three times as many abrasive cycles as competing products.

M-Force Ultra not only outperforms competitive products in wear but also locks out harsh stains such as permanent marker, iodine, and mustard.

M-Force and M-Force Ultra Enhanced Urethane finish are polish-optional for versatile, cost-effective maintenance.
We work to exceed the standards, because M-Force works to ensure your floor looks better longer for everything that happens in your space. M-Force means you get performance for life.
For more specialized or extreme areas of use, ask your Mohawk Group rep about M-Force Ultra–we engineered M-Force Ultra to provide even greater durability against scratches, dents and wear, and even higher resistance to the toughest stains.